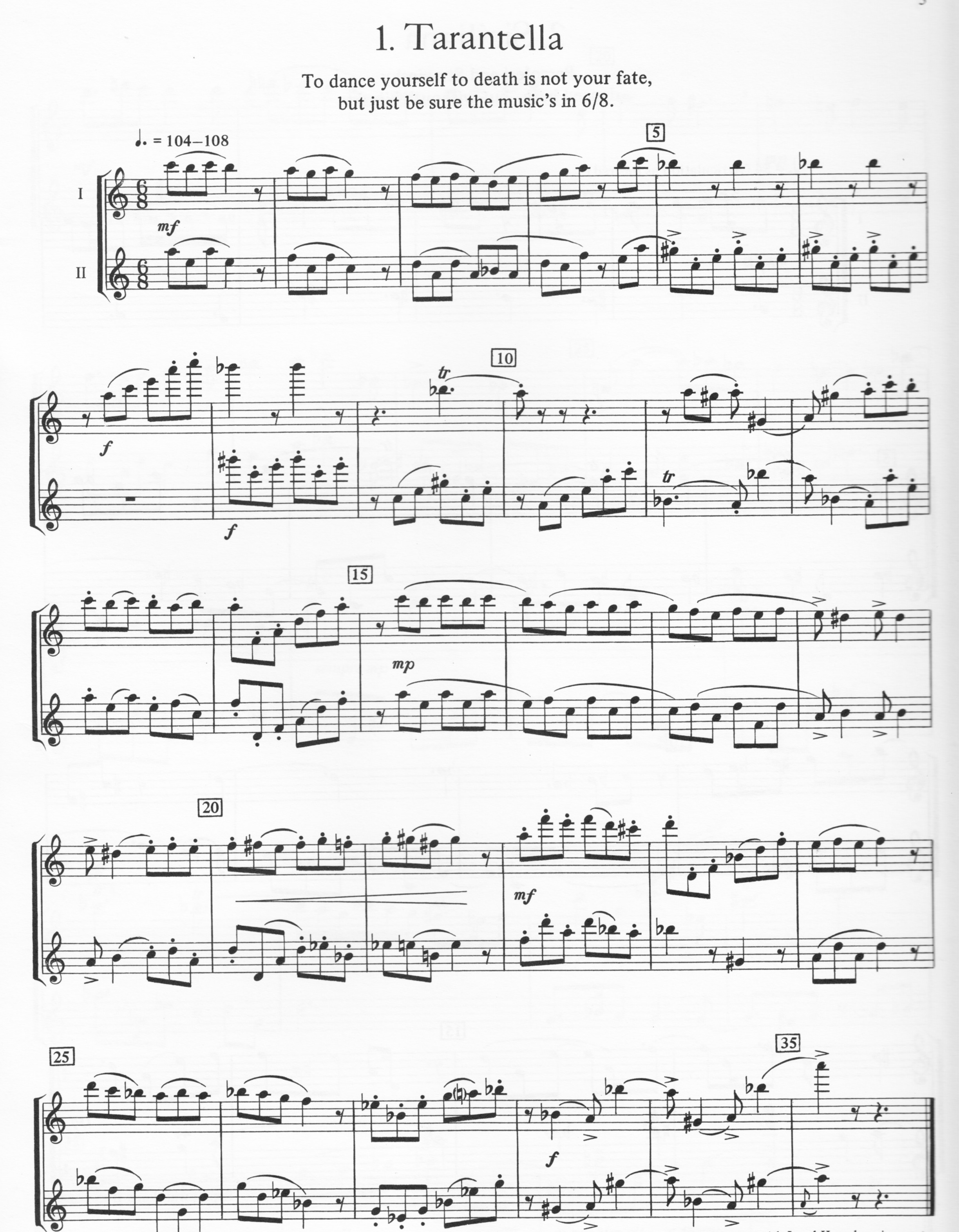 Cheaper by the Dozen

Opus 124 – 1985
"Cheaper by the Dozen" is basically a teaching tool for high-school-age students. Because the movements are brief, the piece can provide a quick study of harmonies and techniques. The movements work easily into programming and they have a light, easily accessible style. All can be played together or a few can be chosen for performance.
Following is a list of the movements with notations of technique:
Tarantella: Easy 6/8 tempo, range of D1 to C4. Movements move together with parts switching on the repeat. Each has a syncopated rhythm moving together.
Siciliana: Styled after "Pulcinella Suite" by Stravinsky which was based in part on music by Pergolesi. An introduction to the siciliana rhythm and expressive playing at a soft dynamic level.
Funghetta: Fugue in easy tempo, 72 to the quarter note with brief 32nd note passages. Straightforward rhythms, clear fugue style. Title not to be confused with fugetta—but instead a play on the Italian word for "mushroom."
Colpo di lingua: A humorous piece to play and learn to flutter. Rhythms move together at a slow tempo.
Toccata: Scale-like passages at a moderate tempo, 96 to the quarter note. Dovetailing passages with first part playing a high C.
Discorso deliberato: An unbarred conversational piece; introduces concept of accidentals applying only to the notes they proceed. Performers are instructed to play "with emphasis, a kind of courteous argumentativeness."
Diagonals: An adaptation from an earlier flute piece, Diagonals is a repeated canon an octave apart.
A song for JSB: In the style of Johann Sebastian Bach, with a continuo-like accompaniment in the 2nd.
Vienoisserie: Written in the style of a typical Shubert waltz. An introduction to rubato, played with liberty.
Swing Row: 12-tone techniques in a jazzy rhythm.
Spectra: An unmeasured movement with opportunity for expressive, dynamic phrasing. Played "sempre liberamente," each part has an eerie, freely played solo while being supported with brief comments in the other voice.
Quintillion: An introduction to the harmony of 5ths moving together rhythmically. Inspired by Bartok's "Concerto for Orchestra"—Movement 2, Dance of the Couples.
Listen to selections from Klaus Roy's "Cheaper by the Dozen"