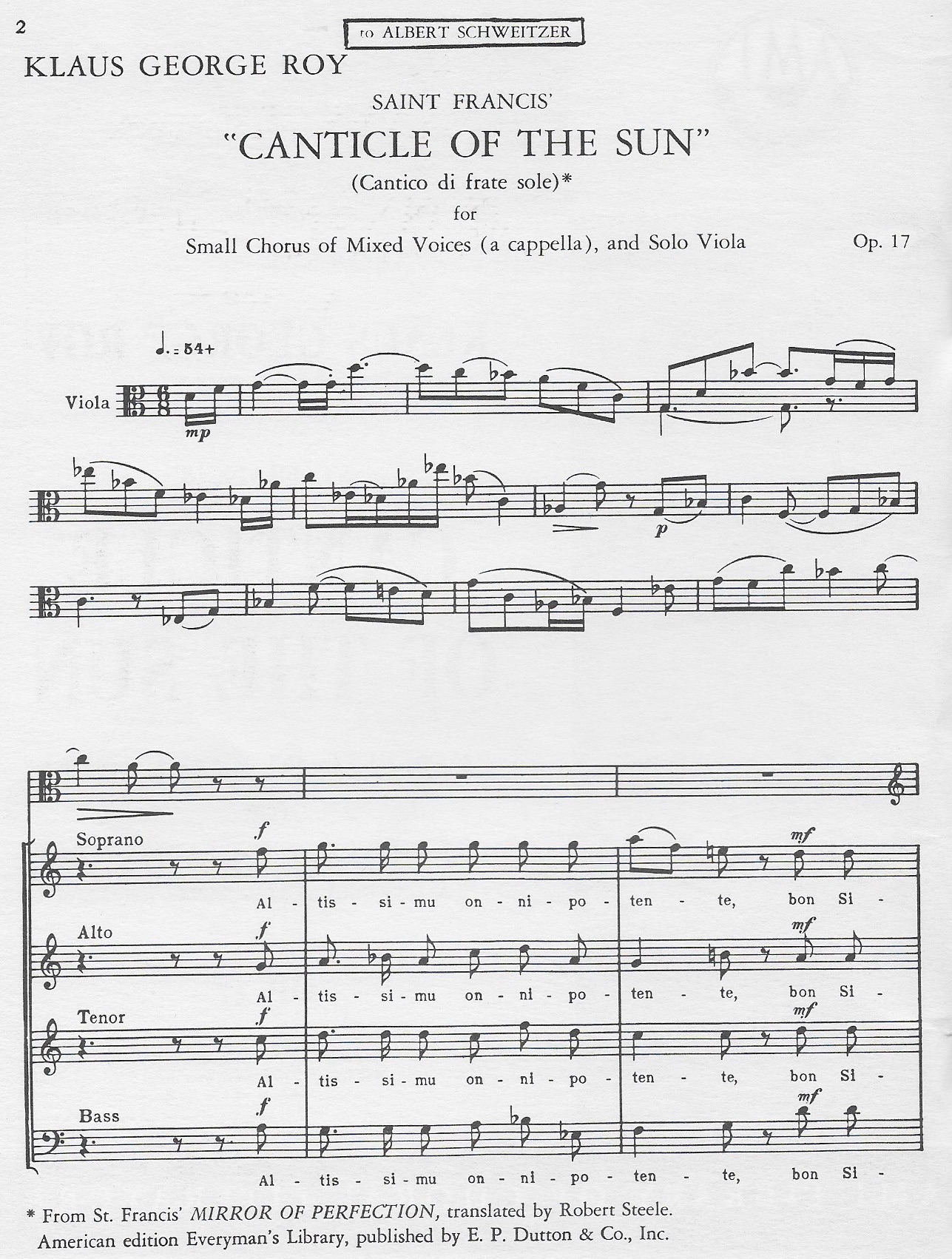 Saint Francis' Canticle of the Sun
Opus 17 – 1950

The poem by Saint Francis of Assisi, dated about 1220 A.D., is one of the most beautiful hymns of praise in all religious literature. In its great variety of color and imagery, yet with a clear and marvelously unified structure, it has been an inspiration for musical setting to many composers. Among these are Leo Sowerby, Seth Bingham, Charles Martin Loeffler, Walford Davies, and Mrs. H.H.A. Beach; but usually, a translated text was used and large forces were required, including orchestra and soloists as well as chorus. Paul Hindemith's great Ballet on the life of St. Francis, "Nobilissima Visione," symbolizes the Canticle of the Sun—also known as "The Praise of All Created Things"—by a magnificent concluding Passacaglia for full orchestra.
Each section of the poem, except the first and the last, begins with the words "Be Thou praised, my Lord," the symmetry of which is also brought out in the music of the present setting. There are only four voices, which are never augmented; the music is restrained and it never rises beyond a forte—any sort of over-emphasis or bombast having been quite foreign to St. Francis. The purpose of the solo viola is as much a musical as a symbolic one; yet the instrument can sometimes say those things which the voice cannot.
The words are cast in a medieval form of Italian, which is often still quite close to Latin. They praise the Lord for and through ("per") all created things, in verses which give no more than the essence of each thought on Brother Sun, Sister Mood, the stars, wind and weather, rather than a rhapsodic description of them. The music, likewise, attempts to avoid repetition and elaboration, by a musical structure which grows and changes rather than develops by fugal and imitative means.
The chaste beauty of water, the robustness of fire are cause for praise, as are the fruits and flowers of the earth. That the animals so beloved of the Saint find no place here may be accounted for by his other works in which he devotes himself to them. The story is told that St. Francis pacified a fierce local quarrel by having two priests sing the verses of praise through those who forgive for the sake of God's love. On his deathbed he is supposed to have added the verse of praise for "our sister, bodily death."