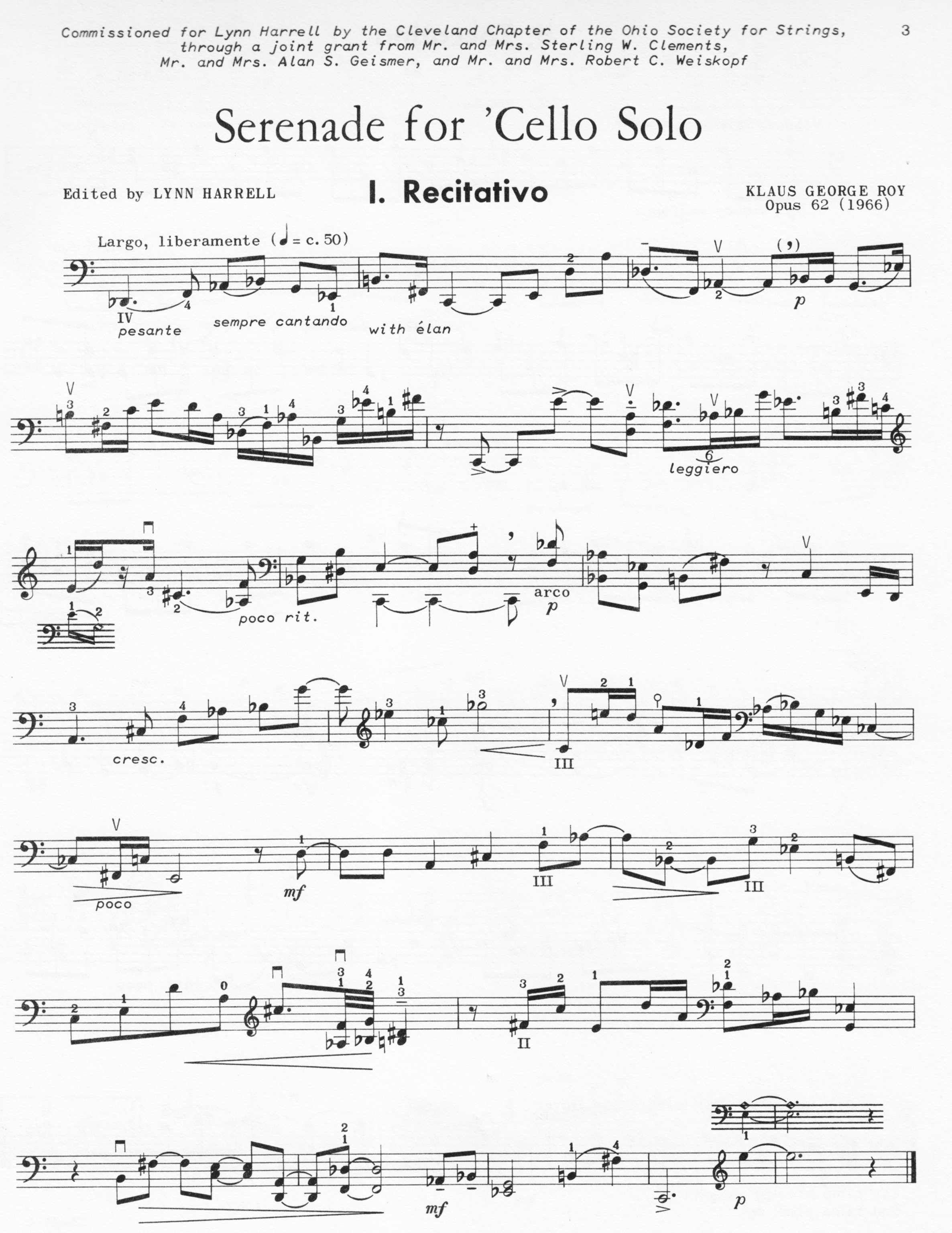 Serenade for Cello Solo

Opus 62 – 1966
This work was composed upon the request of Lynn Harrell, then principal cellist of The Cleveland Orchestra (1965-71), to write a work for him. Begun in 1966, the music turned out to be technically challenging, as appropriate for a virtuoso performer then in his early twenties—later to become one of the world's eminent cellists. A number of technical suggestions by the artist were happily accepted by the composer and the first performance was given on May 15, 1968 at the auditorium of the Cleveland Museum of Art, in the course of the 10th Cleveland May Festival of Contemporary Music, instituted by then Curator of Musical Arts Walter Blodgett.
After the work was requested in 1966, it was commissioned by the Cleveland Chapter of the Ohio Society for Strings, through a joint grant from three Cleveland couples prominent on the Cleveland musical scene: Marilyn and Sterling W. Clements, Barbara and Alan S. Geismer, and Eunice and Robert C. Weiskopf. Since the 1968 premiere, there have been other performances of the Serenade, by Regina Mushabac of Baldwin-Wallace Conservatory, also on tour; by Michael Flaksman at Oberlin College and at the Canton, Ohio, Museum of Art.
The titles of the four movements may be sufficient indication of the music's expressive intent. It might be pointed out that the opening recitative is a revolving twelve-tone row, elements of which recur in the finale; and there are other connections and relationships between the movements that help to unify the overall structure of the 14-minute work.